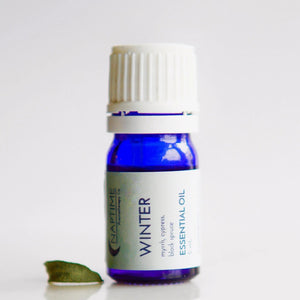 Winter Pure Essential Oil Blend
Regular price $28.00 Sale
Purify indoor air for a healthy winter season!

Reduce the incidence of colds and flu with essential oil air purification! Use regularly in a diffuser to help keep household air clean and fresh.

Contains : Pure, therapeutic essential oils : Siberian Fir Needle, Lavender, Myrrh, Peppermint, Cypress, Myrtle, Eucaluptus Lemon, Oregano, Eucalyptus, Black Spruce, Eucalyptus Radiata.
Aroma Profile: Warm, woody, pine-like, balsamic, coniferous earthy, sweet and luxurious Has a woodsy and refreshing scent. A grounding and calming aroma. 
Uses / Benefits: Has been used to draw biological pathogens or lactic acid from joints. And to help relieve adrenal fatigue with topical application over the kidneys. Its calming, complex aroma brings a deeper sense of spirituality to practices such as yoga and meditation.
See our entire collection of Winter Essential Oil Blend Aromatherapy bath and body Products!
SENSE OF SMELL + YOUR BRAIN


When breathing in essential oil blends made with pure plant aromas, we can literally transform how we feel in the moment, positively shifting the way we relate to the world around us. There is a powerful connection between the olfaction and the limbic center of our brain which regulates our physiology including mood, memory, and emotion.
5ml bottle 
TO USE: Put one drop of your essential oil on any black volcanic lava bead of your My Naptime Jewelry and enjoy! Can also be used in any Naptime diffuser, added to unscented body lotion, coconut oil, or soap or dropped into your bath, Try our premade WARM roller bottle on your temples and neck to help fight headaches, colds, and hot flashes, or just to smell wonderful! 
Once the scent dissipates, anywhere from 6-24 hours, just put another drop on.
If skin irritation occurs, discontinue use and wash with soap and water. 
Precautions : Pure essential oils are highly concentrated plant extracts. Do not use them undiluted, or in the eyes or mucus membranes. If applying an essential oil to the skin, always dilute it with a proper carrier oil and test on a small patch of skin before applying to a large area. Do not take them internally except under the direction of a qualified professional trained in Aromatherapy.  Always familiarize yourself with the safety, contraindications and proper preparation of each essential oil before use. Note that when using essential oils for children and the elderly, very low concentrations should be used. Keep all essential oils away from children and pets.
First Aid :  If an excessive amount of essential oil is accidentally applied, use any natural vegetable oil to absorb the essential oil, then wash with soap and water.  If essential oil gets into the eyes, rinse with whole milk if available, or with clean water for 15 minutes.  If irritation persists, seek medical attention.