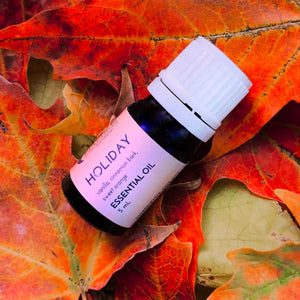 Holiday Essential Oil Blend
Regular price $28.00 Sale
Our Holiday Essential Oil, a true embodiment of the season in a bottle! 🎄✨ Immerse yourself in the spirit of the season with this blend of Sweet Orange, Cassia Leaf, Cinnamon Bark and Leaf, Black Spruce, Vanilla, and Citronella.
As you diffuse this aromatic treasure, your home will come alive with the warm, sweet, and spicy scents of the holiday season. 🏡❤️ Imagine the cozy atmosphere it will create, evoking feelings of comfort, joy, and togetherness. It's like a heartfelt invitation to embrace the spirit of Christmas!
✨ Key Features: 🍊 Sweet Orange and Cinnamon Bark bring a burst of citrusy sweetness and a touch of spice. 🌲 Black Spruce adds a touch of evergreen freshness to your surroundings. 🍨 Vanilla adds a creamy and comforting dimension to the blend. 🌿 Citronella offers a hint of the outdoors, reminiscent of winter walks in the crisp air.
This Holiday Essential Oil is perfect for:
✨ Festive gatherings with family and friends. 🕯️ Creating a warm and inviting ambiance for holiday dinners. 🎁 Gift-giving to spread the holiday cheer. 🌟 Infusing your home with the love and joy of Christmas.
Elevate your holiday experience with this delightful essential oil blend. It's a small bottle with a BIG impact on your holiday celebrations! 🎉
Get ready to make your home feel like a haven of warmth, love, and Christmas spirit. ❤️
🌟 Grab yours today and let the Christmas joy begin! 🌟